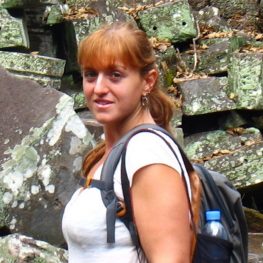 Roxane Sansilvestri
GET-COFUND MarieCurie Fellow at UAH
The wood biomass energy development in the Mediterranean basin: when global mitigation conflicts territorial adaptation
About the research project «The wood biomass energy development in the Mediterranean basin: when global mitigation conflicts territorial adaptation»
Research line : Synergies and co-benefits of sustainable socioeconomic pathways
Mentor: Prof. Sonia Quiroga-Gomez
Abstract:
International public policies attempt to develop new mitigation strategy in the face of global change, especially climate change. The European directive H2O2O determine goals in terms of renewable energy development for all European countries. Today, the wood biomass energy represents the largest renewable energy developed in Europe. In this context, several biomass power-plants have been implemented in the European Mediterranean basin with the objective to benefit from its large wood resource stocks and to increase the economic richness of its forestry sector. However, Mediterranean forests represent a unique location in the world and their management are already very complicated considering their great biodiversity, fire regimes and cultural representation.
The massive development of this new economic sector raises many questions in terms of governance, social acceptation and capacity, ecological impacts, carbon footprint and economic opportunities. Moreover, forest owners and managers in Mediterranean forests have traditionally more conservative management than harvesting practices.
This project aims to understand the emergent socio-economic dynamics of the implementation of the European public policy, and the environmental and ethical issues associated in the Mediterranean forest basin. To analyse the territory, we will use an interdisciplinary approach mixing sociological methodology, ecological evaluation and economic analysis.  The main deliverable of this project is to develop a compound model for decision making towards a sustainable implementation of wood biomass energy in a fragile region as Mediterranean basin considering environmental, human and ethical issues.
About Roxane Sansilvestri
Roxane Sansilvestri received her PhD in Social-Ecological Sciences in 2015 from the University Paris-Saclay. Her doctoral thesis was conducted at the Ecology, Systematic and Evolution Lab (ESE) to analyze the implementation of an innovative forest practice to manage climate change, the assisted migration, for European and Canadian forests. During her PhD, she traveled 6 months in 4 canadian's provinces to interview professor, forest technician, native populations, ecological association and ministry members in order to promote new management of forest in a changing climate and a complex economical context. She also developed an innovative methodology to quantify the adaptive capacity of the forest social-ecological systems. Thanks to it, she analyzed the adaptive capacity of 5 forest regions and proposed new policies and management practices to enhance the resilience of forest face to climate threats. In 2016, she started her postdoctoral career at the University Versailles-Saint-Quentin (UVSQ), in the Culture, Environment, Arctic, and Climate Team (CEARC). Her research was focused on the analysis of the wood biomass energy public policies in France and their socio-economical and ecological implications. As the result of her research, she is the author of 4 scientific publications and one book chapter, with the participation to several conferences. Currently, she is studying the wood biomass energy potential for the Madrid province and the human-nature relation in the spanish landscapes as a GET-COFUND MarieCurie Fellow at the Universidad de Alcala de Henares in the Economics and Social Sciences Department.