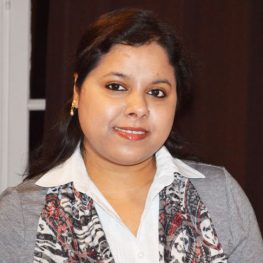 Srabanti Ghosh
GET-COFUND MARIECURIE FELLOW AT UAH
Nanostructured Semiconductor-Metal Complex based Hybrid Photocatalyst for Solar Water Splitting and CO2 Reduction
About the research project "Nanostructured Semiconductor-Metal Complex based Hybrid Photocatalyst for Solar Water Splitting and CO2 Reduction"
Research Line: Photocalytic Hybrid materials based on abundant metals
Mentor: Prof. Marta Elena González Mosquera (UAH) and Prof. Víctor de la Peña (IMDEA Energy)
Abstract
Harvesting solar energy to drive reverse chemical reactions via water splitting and CO2 reduction offers a possible sustainable solution for ever escalating energy demand and environmental remedy. Moreover, the produced chemical fuels (e.g. hydrogen, methane, or methanol) are also a convenient means of energy storage. The proposed study give emphasis on hybrid photocatalytic systems that use transition metal complexes as one of the key players, i.e., as catalysts or photosensitizers. The proposed work is focused on the heterogeneous photocatalytic or photoelectrochemical water splitting and CO2 reduction with molecular catalysts based on earth abundant metals complexes (Aluminium, Zinc, Iron etc), nanostructured semiconductors, and their hybrids. The photocatalytic abilities of each of the three categories of photocatalytic systems: comprising a mononuclear or binuclear metal complex catalyst (working as a redox photosensitizer), semiconductors, and z-scheme semiconductor would be tested for photocatalytic and electrochemically active materials comprising of hybrid systems for water splitting and CO2 reduction under visible light with high selectivity. These include emerging materials such as Al, Zn, Fe and Mn-based complexes with various bridging ligands including polypyridines, carbonyl and porphyrin ligands, metal oxides, conducting polymer nanostructures, two semiconductors forming a Z-scheme band alignment, involving a redox mediator molecule. The effect of light absorption, charge separation and transfer, and surface reactions would be followed to reveal the possible mechanisms (defect engineering, electron injection, redox assembled architectures of the photocatalyst mediators). The approaches would hold promise for substantial improvement in terms of efficiency, cost, and environmental sustainability.
About Srabanti Ghosh
Srabanti Ghosh received her PhD in 2010 at UGC-DAE CSR, Kolkata centre and Jadavpur University, India followed by a position as research associate at the Indian association for the Cultivation of Science, Kolkata. After a research stay at the Laboratoire de Chimie Physique, University of Paris-Sud, France (Marie Curie Cofund), she was appointed as Visiting Assistant Professor at the S. N. Bose National Centre for Basic Sciences in Kolkata, India. She worked as CSIR-SRA Scientist's Pool Scheme in the Fuel Cell and Battery Division, CSIR at the Central Glass and Ceramic Research Institute, India. Her research interests encompass synthesis and applications of semiconductor and conducting polymer-based hybrid nanomaterials for solar light harvesting, fuel cell and electrocatalysis. She has been awarded Postdoctoral Fellowship, Marie Curie Cofund, RBUCE-UP No.246556 by the European Commission and PRES UniverSud Paris (Research Based University Chairs of Excellence of Paris). She received MRSI Young Scientists Award in Young Scientists Colloquium organized by Material Research Society of India (MRSI), and Young Investigator Award in Gordon Radiation Chemistry (GRC), New Hampshire, USA. She is co-author of 53 scientific publications. 8 book chapters and edited two books with Wiley and one with Elsevier. Her work has been presented in more than 60 national and international conferences. Presently she is developing hybrid catalytic materials for solar water splitting and CO2 reduction as GET-COFUND MarieCurie Fellow at Department of Organic and Inorganic Chemistry, UNIVERSIDAD DE ALCALA (UAH) and IMDEA Energy Institute.
More info: https://www.researchgate.net/profile/Srabanti_Ghosh