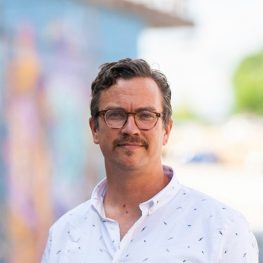 Daniel Wuebben
GET-COFUND MarieS.Curie Fellow at URJC
WIRE SEED 360: Weaving Innovative Research and Public Engagement: Smart Energy, Science Education, and Dissemination of 360° Content
About the research project «WIRE SEED 360: Weaving Innovative Research and Public Engagement: Smart Energy, Science Education, and Dissemination of 360° Content»
Research Line: Smart Energy: Dissemination and Communication of Circular Economy
Mentor:  Manuel Gértrudix Barrio, Profesor Titular, Facultad de Comunicación, Grupo Ciberimaginario
Abstract
How do researchers adapt efficient and responsible communication techniques to contextualize, excite, and influence broader attitudes and beliefs about energy systems and the energy transition? To help answer this question, WIRE SEED 360 reimagines how smart energy researchers disseminate results, engage the public, and practice cutting-edge and cost-efficient communication strategies. The project has three primary actions: 1) to perform a qualitative and quantitative study of communication experiences and strategies for individuals operating under GOT Energy Talent and other energy-related H2020 projects in Spain; 2) to analyze current use of video for H2020 projects and develop guidelines for the dissemination of energy research and community energy projects as multimodal narratives, including indicators to measure the impact of video on various stakeholders 3) to create an original public-information campaign related to "grid literacy," including an array of multimodal content.
About Daniel Wuebben
Daniel Wuebben earned a Ph.D. in Literature from the Graduate Center of the City University of New York and has held full time teaching positions with the City College of New York Center for Worker Education, the University of California Santa Barbara Writing Program, and the Goodrich Scholarship Program at the University of Nebraska Omaha, where he was also the director of the Nebraska Post-Secondary Prison Education Program. He has published nine single authored and two co-authored journal articles on a range of topics including floral codes, viral videos, and critical surf studies. His book, Power-lined: Electricity, Landscape, and the American Mind, shows that as longer, taller, and more interconnected lines coalesced on the margins of the modern environment, the meanings of electricity and landscape charged physical spaces and popular consciousness. His current research examines scientific communication, public engagement, and the energy transition in Spain.
Events